Seeing as I'm sharing trade secrets, I'll let you in on another in-joke. When it comes to gewürztraminer, a well-known tasting phrase is 'Grandma's handbag'. The term encapsulates a cacophony of clashing smells, none of which go together yet as a collective they make up something distinctive. While it's not necessarily unpleasant, it's just a little too much. A heady combination of perfume, powder, must with just a hint of mint. Imagine if you will, a sweeter version of the smell that hits you when you walk into a particularly cluttered op shop. That's the smell when gewürzt goes wrong.
Gewürztraminer is complex aromatically with distinctive characteristics, so it's easy to see where overwhelm can occur. Truly great gewürzt, however, will have all elements working in balance without jarring against each other or without any aroma overwhelming the others. It's not easy to do, but when it happens – as it has with our top wines – it's magical.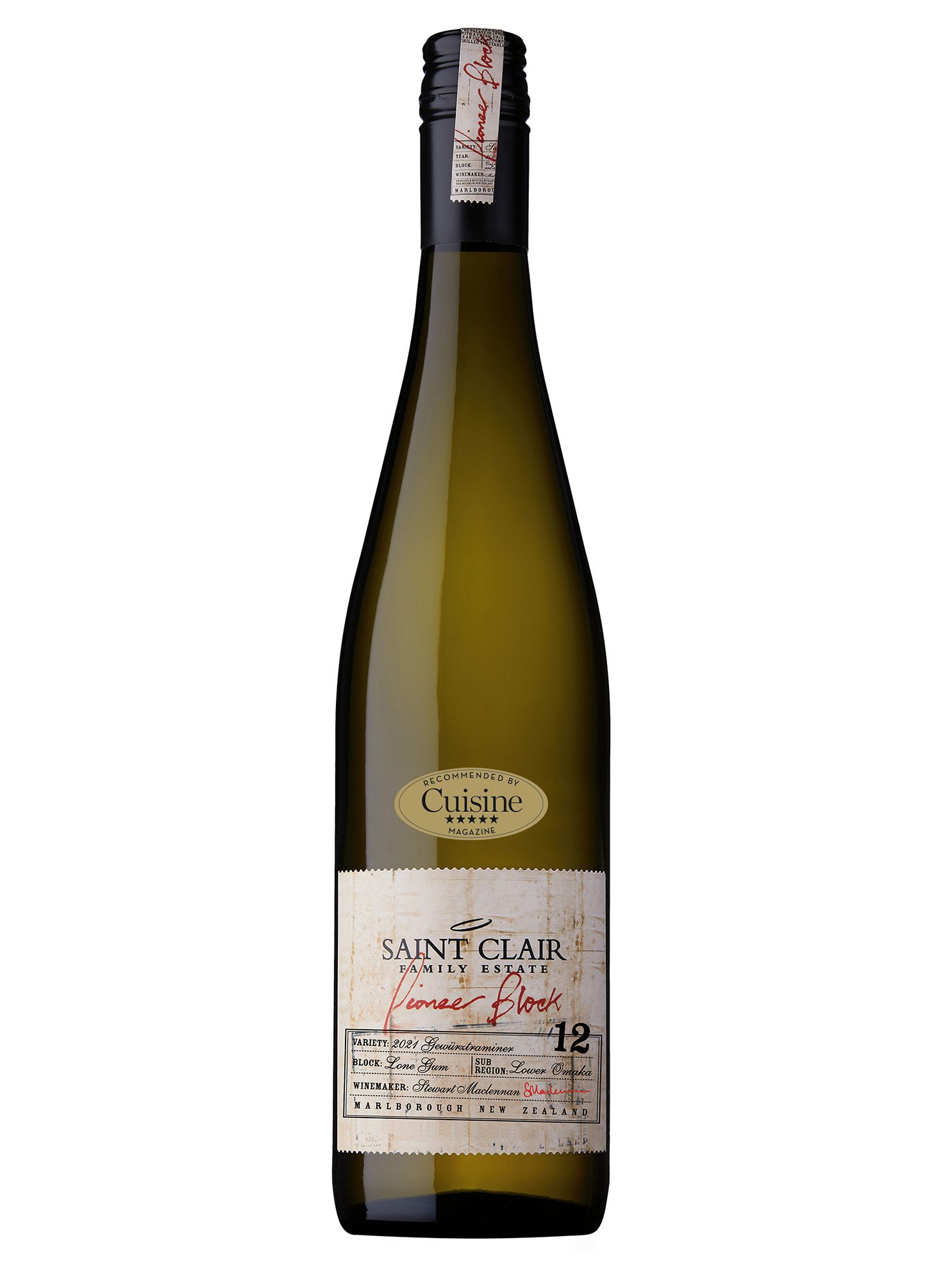 The team at Saint Clair is no stranger to the pages of Cuisine, so it is wonderful to see the 2021 'Lone Gum' Gewürztraminer taking the much-deserved top spot for 2022.
The fruit for this great gewürztraminer was sourced from a vineyard on the Dog Point Road in Omaka Valley in Marlborough owned by Ben and Lisa Halliday. The vineyard is said to be 'guarded' by a large lone gum tree which has become this wine's namesake.
This site is warmer than others in Marlborough and an early budburst along with a long, warm, dry ripening period during summer 2021 enabled the fruit more hang time on the vine. This additional time is essential for allowing the fruit to develop and ripen, increasing sugars and also enhancing the intensity of flavour and aromas that are characteristic of gewürztraminer.
When the fruit was at the perfect ripeness, it was picked in the cool of the evening to retain freshness while it was moved to the winery for processing. Stop fermentation was employed to retain residual sugar and the result is an off-dry gewürztraminer at 11.5% residual sugar. Though this wine shows varietal typicity, it is anything other than typical. Beautiful aromas of rose petals, must and spice co-mingle on the nose and into the palate where they are complemented with baked apple and pear characters. Ginger and coriander spice abound but never overwhelm the palate. Overall this is a beautifully relaxed gewürztraminer with poise and grace while also having incredible drive, length and sinew. Serious yet smashing.
→ more
1