MARY-THERESE BLAIR finds local wines measure up while exploring some newish-to- New Zealand red- wine varietals.
For this tasting our judges tasted a range of reds that were neither Bordeaux nor syrah and shiraz. It was a wonderful selection of those rarer reds on New Zealand shores, those types you are more likely to see widespread throughout Europe.
Montepulciano, for example, is a grape that we rightly associate with Italy. It has been grown there for generations, is the country's second most-planted grape and, unsurprisingly, pairs perfectly with Italian fare such as tomato-based meat sauces and pizza. So it probably wouldn't surprise you if our top montepulciano (or 'monte') came from an island in the Mediterranean. What if I told you our top two montepulcianos came from a tiny island in the Hauraki Gulf? True story.
Our top reds are both made from montepulciano grapes grown on Waiheke Island, Auckland, a fact our judges were delighted to learn once judging had concluded. It's further proof that New Zealand's development as a new-world wine region is ongoing. Our savvy winemakers are listening to the land and learning from it what grapes should grow there, resulting in wine which increasingly is good enough to rival wine made anywhere in the world.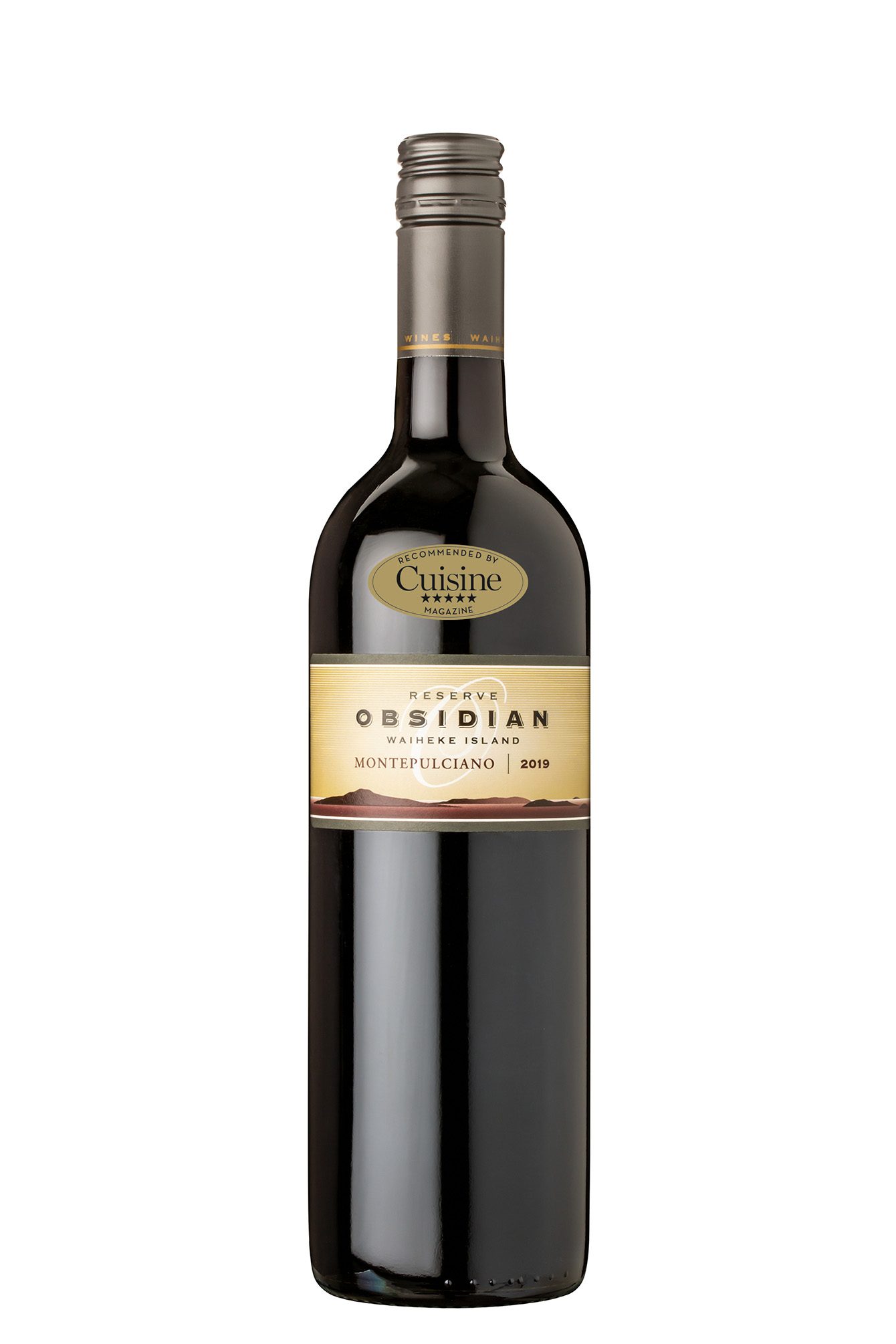 Obsidian's Ten-Hectare Onetangi vineyard was planted in 1993 with a singular vision: to make great Bordeaux- style reds. The team at Obsidian, however, had the good sense to broaden their vision in the early 2000s. While still focussing on Bordeaux grapes, they planted small quantities of Mediterranean varieties, including montepulciano. The resulting wine was the first ever montepulciano produced on the island of Waiheke.
Made in small quantities but to a high standard, the grapes for this wine were hand picked in April 2019 after a hot and extremely dry growing and ripening season. The lack of rain that caused these near-drought conditions allowed the fruit a long hang time which ensured optimal ripeness and ensured stress-free hand picking. It can be rare to hear of a vintage being remembered fondly as one that passed without issue, but 2019 on Waiheke is one that definitely stands out for viticulturists and winemakers alike.
Fair to say that the Cuisine judges were impressed and were immediately struck by the depth of colour in the glass. Initial thoughts upon tasting jumped to the youthful, lifted freshness of the wine amid its deep, dark and brooding profile. Black fruit and chocolate characters come through the nose and are carried through onto the full palate, complete with firm tannins and a hint of spice that follows the wine to its lush and lengthy finish. A wine that is drinking beautifully now but will also reward those not opposed to delayed gratification with time in the cellar.
→ more
1