Pinot gris continues to grow in popularity, but the quality in this tasting didn't match consumer enthusiasm, writes John Saker.
Pinot gris' favoured status among the nation's wine consumers continues apace. No wine list – especially those in casual lunch eateries – can afford not to have it on offer. But at the end of our latest tasting, it was obvious that another trend also continues – this tide of enthusiasm from the market is not being matched by a tide of quality pinot gris. None of the 132 wines tasted received five-star awards, and only two were awarded four-and-a-half stars. "High levels of sugar and alcohol continue to rob too may pinot gris of energy and intensity," said panel chair John Belsham. However, our top wines do show what is possible. Said Simon Nunns: "The best pinot gris have purity and immediacy, and are stunning drinks."
The Tasting Panel
John Belsham, an international wine judge and owner of Foxes Island Wines, Marlborough, was joined for the tasting of New Zealand riesling by Simon Nunns, senior winemaker at Coopers Creek, and James Rowan, formerly of West Brook and currently the winemaker at SOHO's Waiheke winery. Associate judge (non-scoring) was Cuisine's New Zealand wine writer John Saker.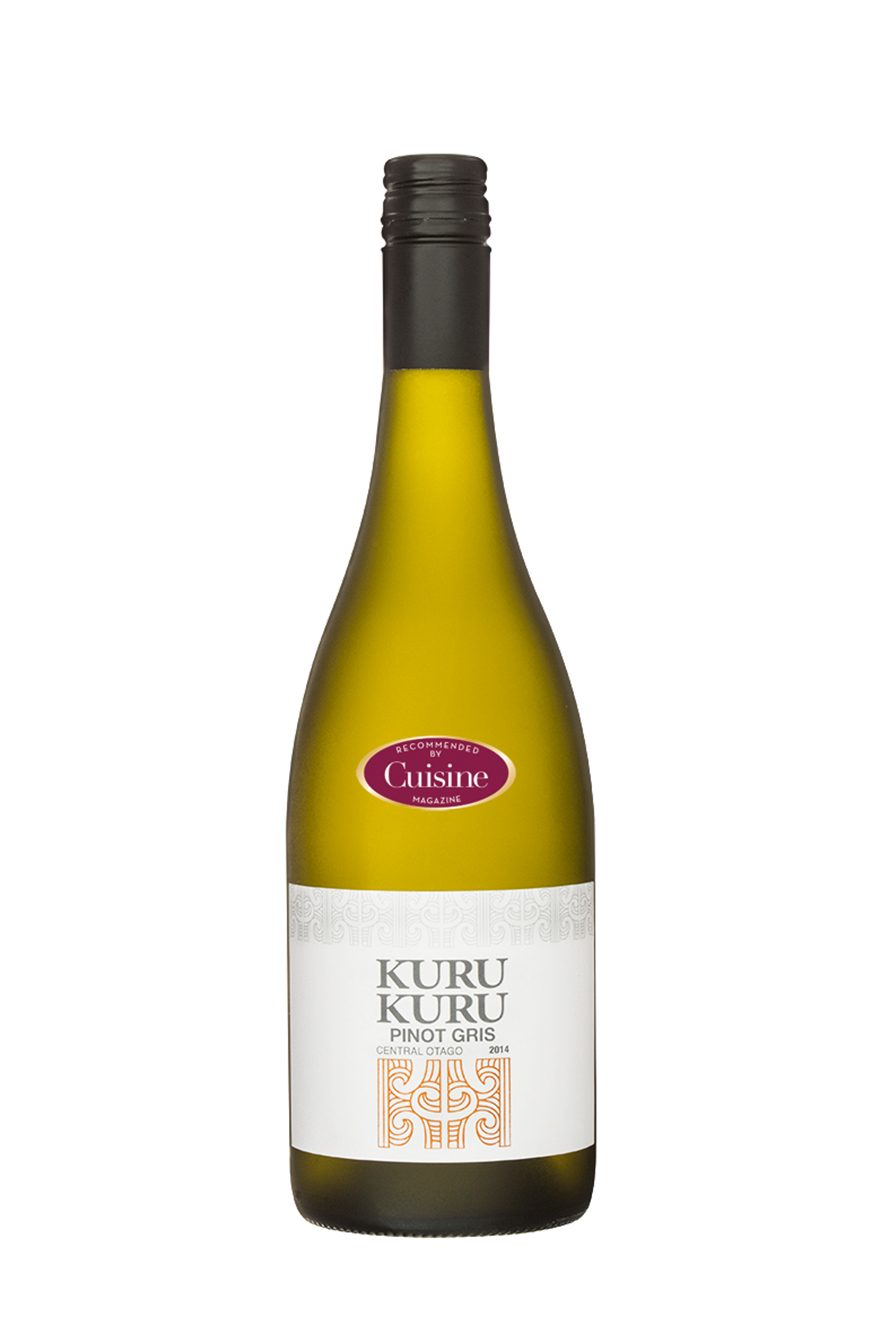 "I like the fresh ginger spice and overall energy of this wine," opined John Belsham. Our top pinot gris is generously endowed with fruit weight and intensity, offering ripe citrus notes and suggestions of exotic spice. Its richness is kept in check by crisp acidity. At the table this dry, refreshing style would suit something delicately flavoured, such as scallops.
Top Wine Profile
Alexandra Energy
Kuru Kuru was created as an export brand by Hayden Johnston (already GM and owner of Tarras Vineyard) in 2008. It takes its name from Johnston's ancestor, a Ngai Tahu woman who married Scottish-born seafarer Captain James Joss and whose chin moko is reproduced on the Kuru Kuru wine label. The brand has been an unexpected hit locally, so much so that now domestic sales have surpassed exports. Johnston acquired two parcels of Alexandra Basin-grown fruit to make the Kuru Kuru Pinot Gris 2014. "The wine's energy is something you get with aromatics from Alex. It's further south and cooler than the rest of Central, on the edge of the edge, if you will." Our top pinot gris was made by Alsace-born Antony Worch, a man with plenty of Old World pinot gris experience. "We didn't want to mess with what the sites gave us," says Johnston. "So we kept the sweetness to a minimum."
→ more
1