The numerous different styles of New Zealand chardonnay being produced made this tasting a fascinating one, writes john saker.
"There are 100 different faces of chardonnay," noted Cameron Douglas going into this tasting. Over the two days that followed, the Cuisine panel went nose to nose with quite a few of them. As you'd expect from a variety with such a stylistically diverse wardrobe, there was plenty of discussion during the tasting. Among the recurring themes were the use of oak, the presence of sulphides  (a naturally occurring character we often describe as a "flinty" or "oyster shell" note) and levels of fruit ripeness. As always, the collective goal was to seek out wines with balance and finesse.
At the end of the tasting, unsurprisingly, a broad range of styles were represented in our top wines. "We're seeing a lot of experimentation," said panel chair John Belsham.
"That leads to diversity which is positive, but not always to consistency of quality."
Cameron Douglas revelled in the broad spectrum of styles. "People are pushing the boundaries in terms of oak and sulphides," he said. "And we were challenged in that regard. Ultimately, the wines that came out on top were seamless and balanced."
Andrew Parkinson felt the overall quality had improved: "We may be in a stage of transition, but we're not seeing the number of poor examples we have in the past."
From a field of 167 chardonnays, 43 received four stars or more and eight of these were awarded the maximum five stars.
Tasting Panel
For this chardonnay tasting, John Belsham, an international wine judge and owner of Foxes Island Wines in Marlborough, was joined by Cameron Douglas, New Zealand's only Master
Sommelier and senior wine-show judge, and Andrew Parkinson, national on-premise and fine wine manager for Negociants New Zealand. Associate judge (non-scoring) was Cuisine's
wine writer John Saker.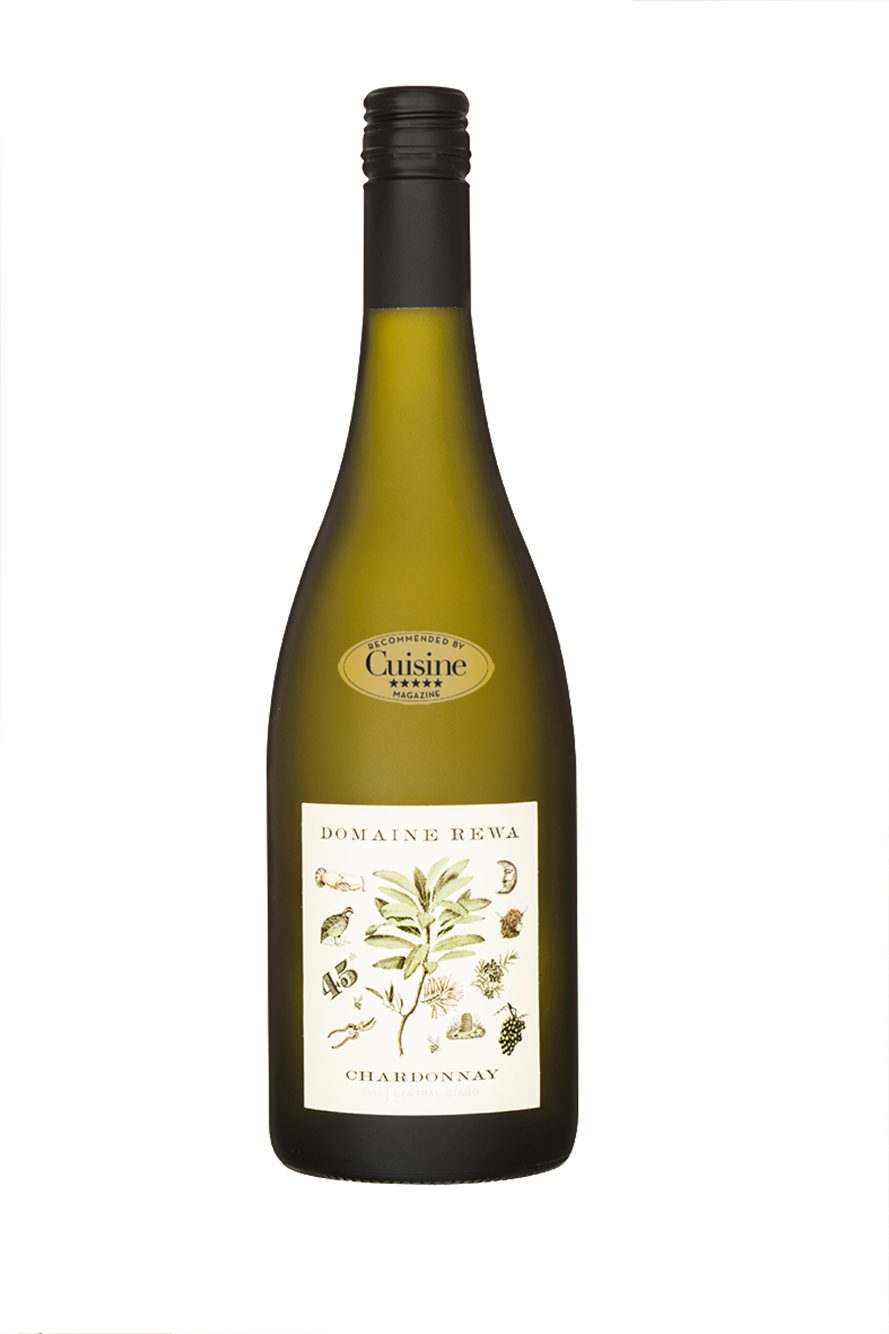 This fabulous example of a cool climate chardonnay is all about contained precision. The scents it offers up are subtle, yet from the first sip you know you're in for a rare treat. Creamy peach and citrus notes, seasoned with a touch of int and savoury spice, are served up bone dry. It is mouthfilling, concentrated and vibrant. "Perfect balance – nothing sticks out," noted Andrew Parkinson. It is the kind of modern, lean chardonnay that pairs o so well with oysters and other shell sh dishes.
Top Wine Profile
Euro paean
Domaine Rewa, as its name suggests, is a New Zealand winery with a leaning towards the old world. Its proprietors are Philippa Shepherd and her French husband, potter Yannick Fourbet. For the past 11 years, Shepherd has been based in London where she currently works for Deutsche Bank. She grew up on an Otago farm, and at the urging of her family back in New Zealand, bought a small (5.5ha) established vineyard in the Cromwell Basin in 2009. Shepherd
and Fourbet wanted a name that straddled both their lands and cultures; "Rewa" was chosen as it was the given name of Shepherd's grandmother. The vines are a mix of pinot noir, pinot gris, riesling and chardonnay and were planted in
1997 on an elevated site near Pisa Moorings along the Wanaka Rd. The vineyard is farmed biodynamically by viticulturists Grant Rolston and Gary Ford and 2013 was Domaine Rewa's third vintage. Production is small – only 3000 bottles of the 2013 chardonnay were made – but a push is being made this year to increase the label's presence in ne wine stores and restaurants around the country.
Winemaker Pete Bartle regards the vineyard's chardonnay fruit as among the best he has seen from the region. Shepherd's instructions to him were simple:
"Please make the chardonnay in a subtle, old world style." That it has won over Fourbet – a diehard lover of his own country's wines and previously something of a Kiwi wine sceptic – suggests the brief was answered.
→ more
1