New Zealand gewürztraminer showcases contemporary class, says MARYTHERESE BLAIR
THIS YEAR'S gewürztraminer entries were humorously described by panel leader Ben Glover as "no longer in the genre of horror spoof gone wrong involving a can of old lychees, lily of the valley toilet musk and your grandmother's house during a damp autumn". All jokes aside, it was evident from this tasting that the coolerclimate New Zealand take on the Alsatian trickier-to-say-than-it-is-to-drink aromatic gewürztraminer, is no one-trick pony. The top five wines covered the spectrum of characteristics that quality gewürztraminer is capable of delivering, from light, bright rose water and rose petals through to heady and intriguing Turkish delight and spice with opulent oily richness. A complex and sublime varietal undeserved of its too common and over simplified 'goes well with spicy food' tasting note, gewürztraminer is capable of so much more. Specifically, Glover recommends washedrind cheeses, pork belly and apple sauce, Chinese five spice and even a hint of clove, all of which promises to stand up to the palate profile of great gewürztraminer.
TASTING PANEL Ben Glover, owner and head winemaker for Zephyr Wines in Marlborough and internationally known wine judge, lead this panel and was joined by two experienced and talented wine professionals: renowned winemaker and wine judge Simon Nunns and Master of Wine, international wine judge and owner of the NZ School of Wines and Spirits, Jane Skilton.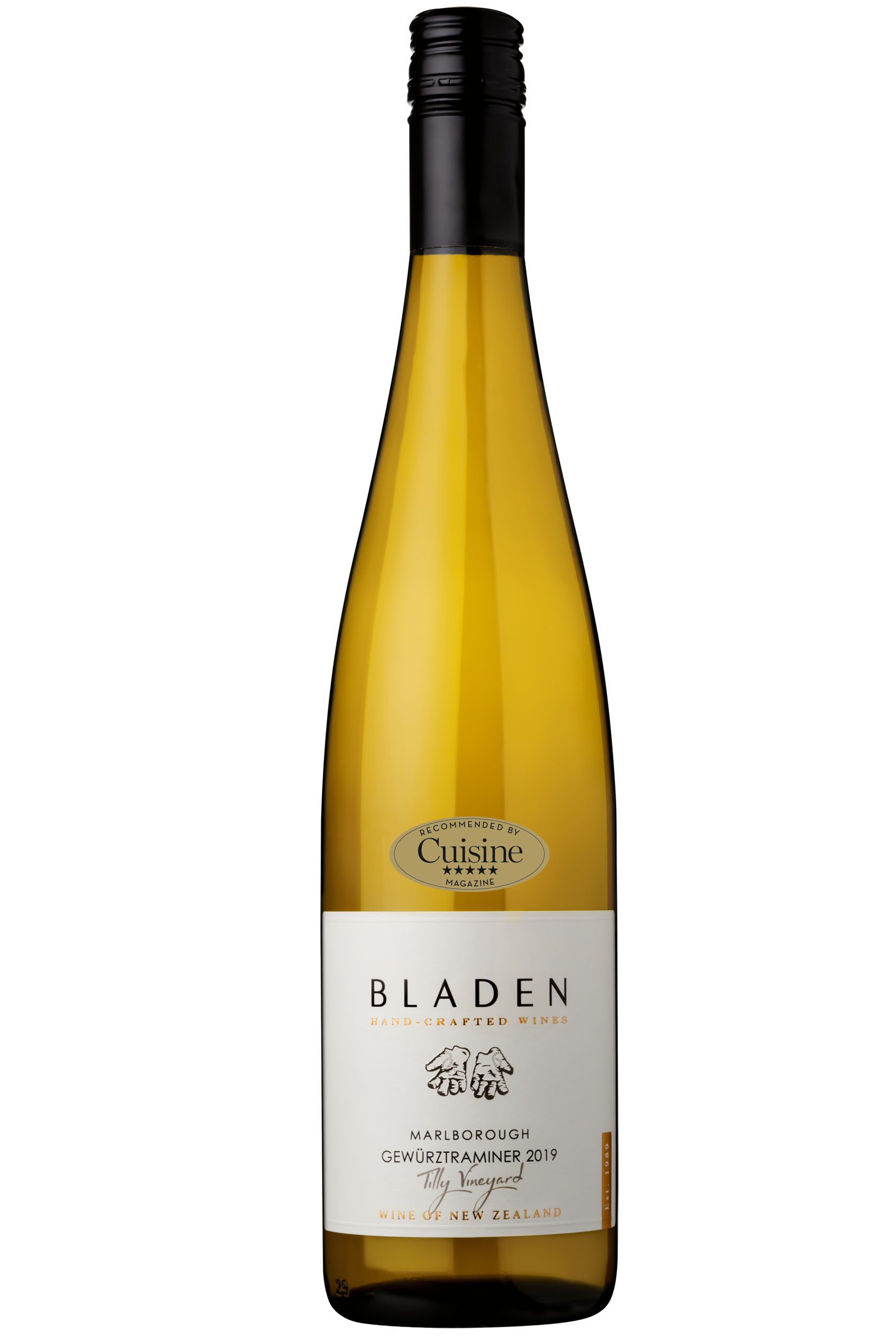 LEAVING CITY LIFE in 1989, Dave and Christine Macdonald did so with two toddlers in tow – literally – they traversed New Zealand in a caravan to find the perfect location to make their wine dreams come true. That location was Marlborough and Bladen was born, one of only eight wineries in what was then a newly developing wine region. Named for the young Macdonald children – Blair and Deni – Bladen quickly developed a reputation for remarkable wines, a reputation which remains solid today. Bladen's 'Tilly Vineyard' Gewürztraminer is dedicated to the grapegrowers, Kevin and Kerry Tilly whose vineyards are located in the Benmorven area of Marlborough's Southern Valleys. The gewürztraminer grapes were picked later than expected. This was due to a later budburst in spring and then lower sunshine hours in autumn which delayed the start to their all important ripening before harvest. Once handpicked, the grapes were crushed and then held in the press to extract the maximum flavour possible and fermented in stainless steel tanks to retain freshness and the signature aromatics for which gewürztraminer is famous. This gewürztraminer is full bodied, rich and oily, a remarkably good example of fine New Zealand gewürztraminer. It displays heady dried spice, subtle Turkish delight and ethereal rose water aromas. An exotic beauty with a seductive moreish palate with rich honey and spice notes which carry through to a long, sustained finish, leaving all the senses relaxed, happy and fulfilled. Balanced, delightful and as good now as it will be after five years in your cellar.
→ more
1