Not the 'vanilla' you might expect – MARY-THERESE BLAIR explores New Zealand pinot gris.
IT WOULD SEEM that pinot gris is a bit like people; everywhere you go in the world it's the same… but different. The style that we in New Zealand have embraced is fruit-forward, medium- to full-bodied gris. We make our gris with an emphasis on fleshy, juicy stonefruit characteristics and our examples sit all the way along the sweetness spectrum. As panel leader Ben Glover is quick to point out, it's a wine that is often maligned, associated more with the colour beige than with the wide range of delicious flavours, aromas and delicate nuances shown in thirst-quenching New Zealand gris. In fact, the range of styles presented during this tasting delighted the panel with some serious examples of pinot gris showing deftness of sweetness, pip-fruit nuances, concentration and staying power on the palate. If this is beige, he says, then beige is back.
TASTING PANEL Ben Glover, owner and head winemaker for Zephyr Wines in Marlborough and internationally known wine judge, lead this panel and was joined by two experienced and talented wine professionals: renowned winemaker and wine judge Simon Nunns and Master of Wine, international wine judge and owner of the NZ School of Wines and Spirits, Jane Skilton.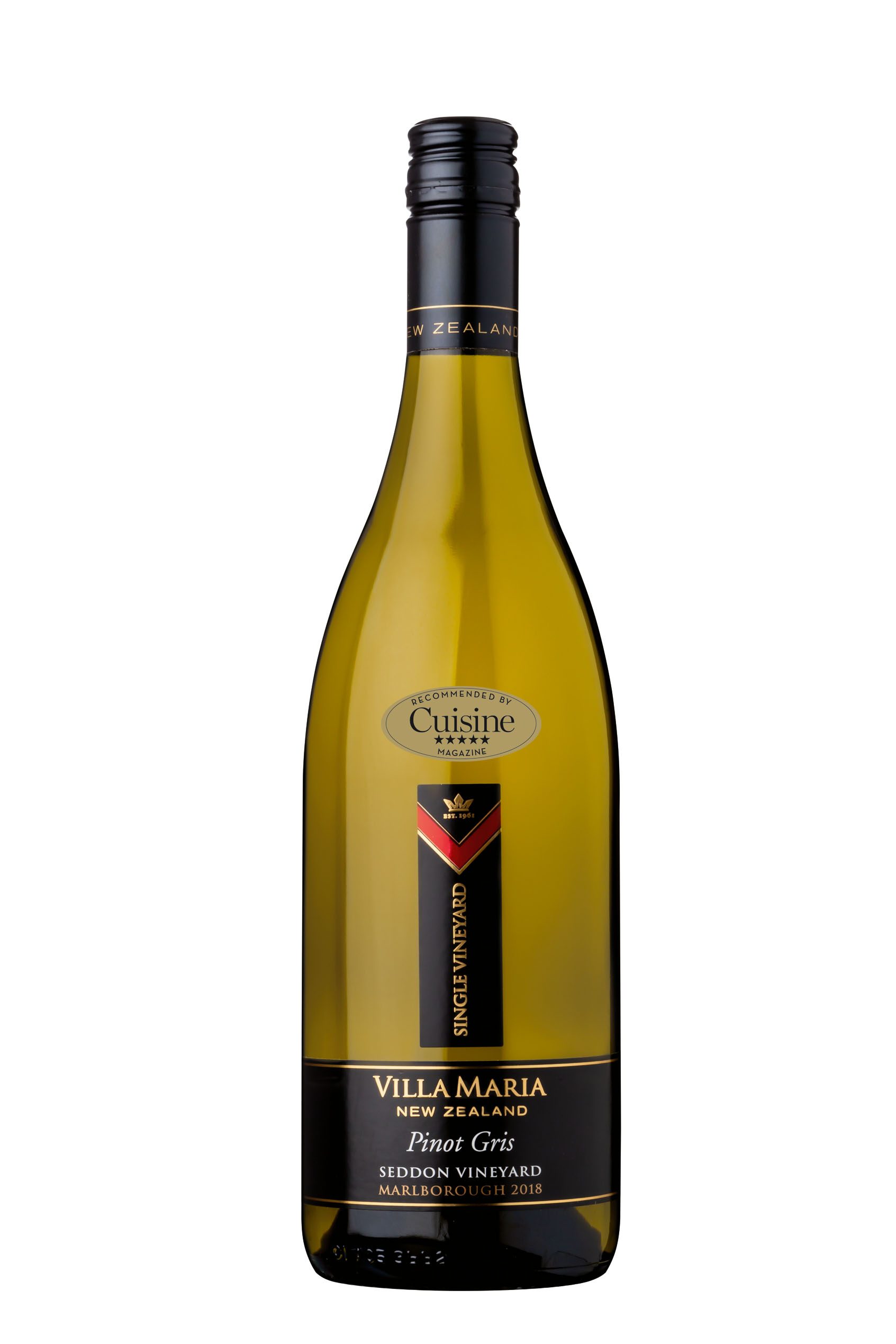 THERE'S A REASON WHY Villa Maria is consistently New Zealand's most-awarded winery and it's because of good-quality, well-crafted, approachable and delicious wines like this one. The grapes for this remarkable wine were picked from 11–16-year-old pinot gris vines in the Seddon single vineyard situated on the southern bank of the Awatere River in Marlborough. Despite the area being cool climate, the vineyard itself is specifically sheltered from southern weather, creating a warmer more beneficial mesoclimate. This, combined with the unique soft clay terroir, ensured that the grapes achieved ideal levels of both physiological ripeness and fruit concentration. Marlborough Regional Viticulturist Stuart Dudley employs careful vineyard management and attention to detail to ensure vine health and balance as well as yield management, ensuring that only the best is harvested. The grapes were handpicked in the cool of the morning and chilled overnight to retain maximum freshness and flavour characteristics, before being pressed, fermented and blended – by Senior Marlborough Winemaker Helen Morrison – into this remarkable wine. With flavours of bright apple, golden peach and pear and hints of subtle cinnamon spice, this wine encapsulates all that is not just good, but great about gris. An off-dry style and while not hugely textural it has exceptional balance, poise, palate weight, persistence, fleshiness and a seductive and moreish character. A wine to sit down and really relax with, so you can give it the attention it deserves.
→ more
1