Pinot noir winemakers are committed to increasing quality and creating a variation in styles, says JOHN SAKER.
IF ANY GRAPE NOW planted in New Zealand deserves 'taonga' status, it is pinot noir. It is not our most widely planted variety; sauvignon blanc wins that race by a country mile. But it is the grape around which has grown an especially inquisitive, quality-driven winemaking culture. In turn, the approach and work of our best pinot winemakers has deepened the respect for New Zealand wine internationally. This latest tasting offered further evidence of the commitment by the pinot community to make gains in quality and style variation. "We're seeing more individualistic wine, thanks to less heavy-handed winemaking," said panel chair John Belsham. Jo Gear agreed: "We're giving fruit a chance. Many of these wines are testament to the beautiful fruit we grow in New Zealand. Pinot of all varieties should not be overwhelmed by anything that interferes with that. And I loved the huge range of styles."
TASTING PANEL
For this New Zealand pinot noir tasting, John Belsham, an international wine judge and owner of Foxes Island Wines in Marlborough, was joined by Jo Gear, head winemaker at New Zealand Wine Society and John Saker, author and Cuisine wine writer.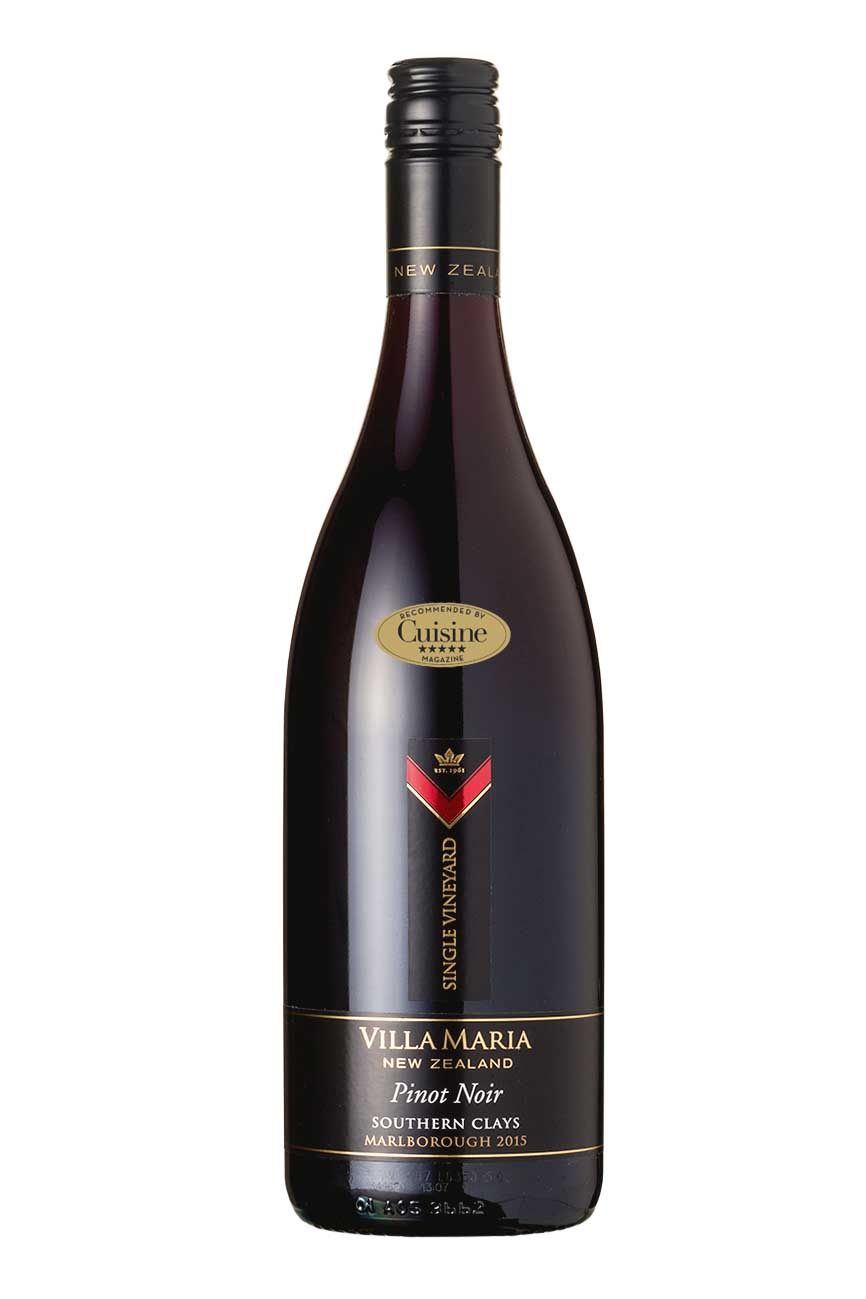 TYPICALLY MARLBOROUGH
"We were just tasting some 2015s the other day, and thinking, 'Those were the days – or vintages!'," said Villa Maria's Senior Marlborough Winemaker Helen Morrison "It seems like a long time ago now," she added, speaking just as the remnants of Cyclone Gita bore down on Marlborough's vineyards prior to the 2018 harvest. She describes the 2015 pinot vintage as "relaxed". Spring conditions regulated yields naturally and thanks to a benign autumn the picking date was not forced. All the fruit that goes into the Southern Clays pinot is grown on a site in the Ben Morven valley owned by a Villa Maria grower of long standing, John Rutherford. "It's a vineyard that delivers time and again," said Morrison. "The tight clay soils give us robust earthy tannins, along with the lovely red cherry fruit flavours that are typically Marlborough. As with all of Villa Maria Reserve and Single Vineyard expressions, our top wine was held back and only released a few months ago. The tannins are still quite tight… it's a wine that will age well." Asked to supply a food match, Morrison doesn't hesitate: "slow-cooked lamb."
→ more
1