A FRIEND RECENTLY confided in me that she would never order a wine from a restaurant list that she wasn't confident she could pronounce correctly (coincidentally – or not – I was pouring her a glass of viognier at the time). I'm sure other people feel the same way and it makes me angry. Is this what wine snobs in specialist wine shops and condescending sommeliers have done to wine drinkers? If so, they have done varietals such as viognier, grüner veltliner, albariño et al a phenomenal disservice, denying wine lovers a rich experience that broadens their horizons and their palates. So I urge you, next time you order a glass or buy a bottle of something hard-to-pronounce, do it with confidence and don't give a fig if you get it wrong because a true wine advocate will applaud you for both your linguistic effort and for your desire to try something new.
TASTING PANEL Ben Glover, owner and head winemaker for Zephyr Wines in Marlborough and internationally regarded wine judge, led this panel and was joined by two experienced wine professionals. Jane De Witt is operations winemaker North Island for Lion and one of New Zealand's most-awarded sparkling winemakers and Chloe Somerset is winemaker and vineyard manager at Cable Bay Vineyards, Waiheke Island.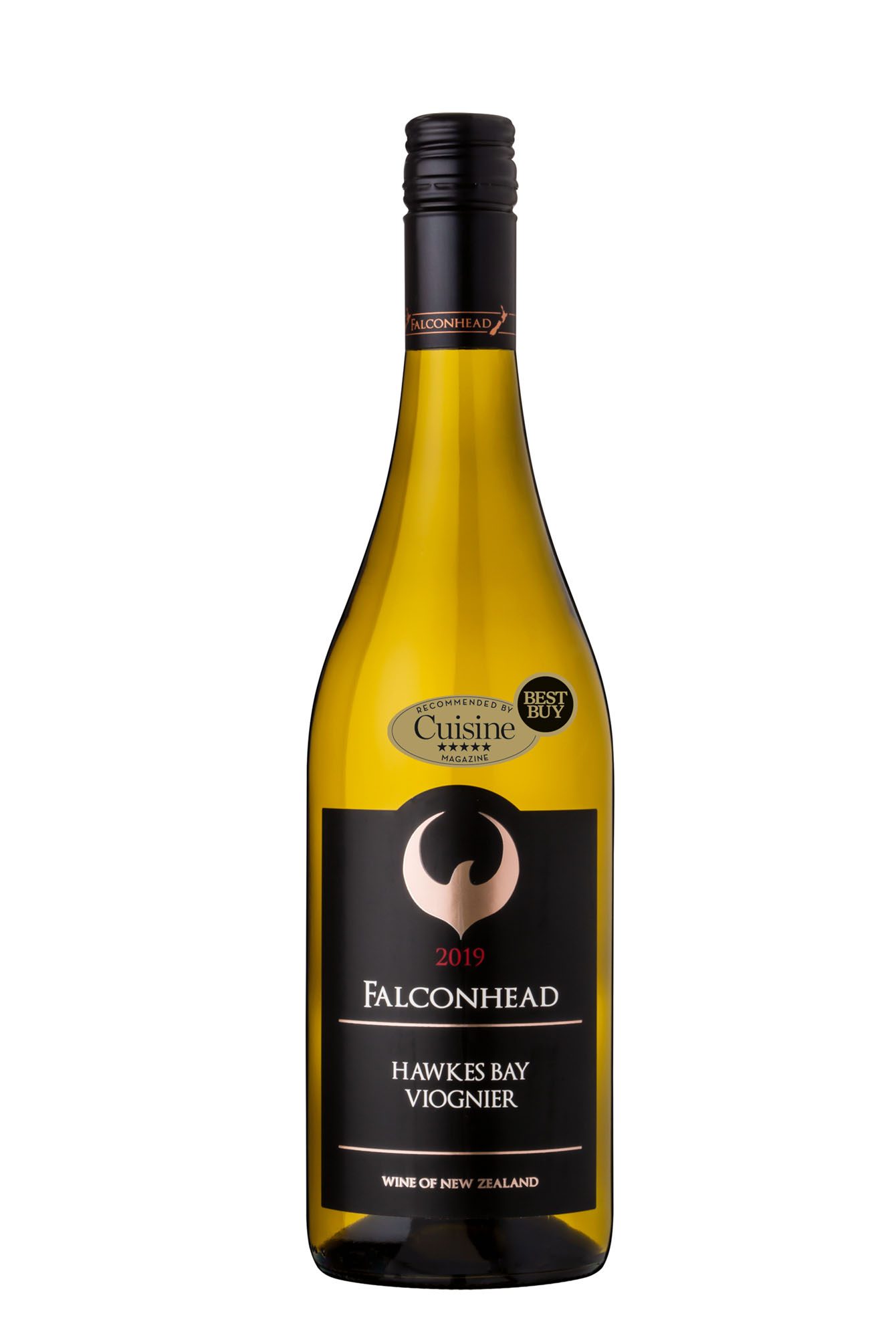 FOR DECADES New Zealand falcons (the only remaining birds of prey endemic to New Zealand) have been revered guardians of Falconhead's Riverview vineyard on the banks of the Ngaruroro River in Hawke's Bay. There the resident falcons help the viticulture team with their natural sustainability program by managing pest control operations from the skies above the vines. Considering these majestic birds are such hardworking members of the team it seems only appropriate that the falcons grace each bottle of Falconhead wines. The fruit for this Falconhead viognier was sourced from 20-year-old vines at the warmer Tantallon vineyard in the Bridge Pa triangle subregion of Hawke's Bay. The summer of 2019 delivered perfect ripening conditions in the Bay, with long, hot, sunny days and cool nights allowing the vineyard team the luxury of time and choosing to pick the grapes once they hit optimum ripeness without any weather pressure. The result is a gorgeous, supple, true-tovarietal viognier with creamy apricot and peach-compote characters which come together perfectly to really bring this well-balanced deft vioginer home. Delicate sulphides harmoniously sit alongside bright aromatics and provide all the nuances of a finely crafted, elegantly textured viognier. A standout wine. As for the falcon, it's worth noting that the same iconic bird graces New Zealand's $20 bank note and you can exchange just one note for a bottle of Falconhead viognier and have change to spare, which is extraordinarily good value for this exceptional wine.
→ more
1