Sweet wines reward a match with hints of salt, savoury and spice - and a bit of decadence, says John Belsham
Sweet wines are some of the rarest and most delicious wines in the world and are often referred to as liquid gold, due to their golden hues and the labour-intensive methods required to make them. When made well with the perfect tension between residual sugar, acidity and structure the wines will age for decades, however, all of our top wines can also be enjoyed now. Some of the best food matches with sweet wines are salty, savoury and spicy; think blue-veined cheeses, freshly shucked oysters and pâté.
When we spend the end-of-year holidays in France with friends, Christmas Eve always includes a sweet wine served with fresh oysters and foie gras – decadent, but delicious. When pairing sweet with sweet, go for more textural, fruit desserts such as orange almond cake or roasted peaches with black pepper and rosemary, as the contrasting flavours will give balance to these show-stopping sweethearts.
TASTING PANEL
For this New Zealand sweet wine tasting, John Belsham, an international wine judge and owner of Foxes Island Wines in Marlborough, was joined by Steve Voysey, the proud owner of Spade Oak Wines in Gisborne and a consultant winemaker with over 35 years of  experience. The third panellist was Jane De Witt, the very experienced and multi-awarded winemaker for Lion.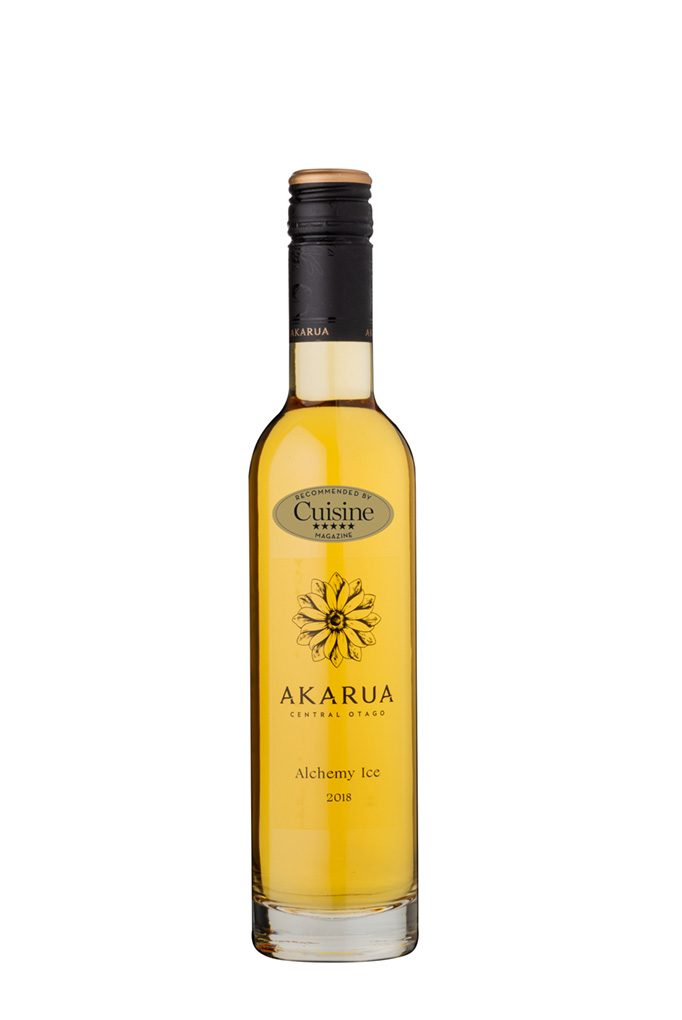 Riesling is considered the high priestess in the wine world. In the right hands she delivers the most diverse range of premium wines of any other white varietal. Deliciously dry to intoxicatingly sweet she can be flirtatious and beautiful when young, complex and engaging when aged. Central Otago, is typically accoladed for pinot noir, yet under the radar this most southern region in the world is also home to some of the finest rieslings. Akarua Alchemy Ice is one such gem. Initially the winery thought that this style would be a one-off wine – something special to have at the cellar door –  however, following multiple successes the wine has become a celebrated style in the winery's portfolio. For this version, Akarua hand-harvested riesling in late autumn when the fruit was fully ripe yet the acidity remained naturally high. The grapes were then frozen in the winery. Using this technique the water molecules are bound yet the sugars and other dissolved solids do not freeze, yielding hyper-concentrated flavours at the time of pressing. Production volumes are traditionally tiny, so be sure to savour every drop.
The golden hue and rich viscosity produce a stunning visual in the glass. The beautifully concentrated floral and spicy aromas open out to flavours of apricot, lychee and honeyed caramel. The palate remains fresh and vibrant with balanced acidity and a supportive phenolic structure.
→ more
1