With the right conditions, New Zealand syrah could become one of the world's great red wines, writes Ralph Kyte-Powell.
Few New Zealand wine types promise as much as syrah. It isn't always an easy variety to handle in the vineyard and winery in New Zealand, unlike Australia where shiraz, as syrah is known there, can make good wine across a broad spectrum of regions and climatic zones. But grown in the right place, and made with appropriate expertise, New Zealand syrah is emerging as one of the world's great red wines.
In New Zealand's climate, syrah is very site and vintage-specific. If a region is too humid or too cool, or if a season has less than optimum ripening conditions, syrah struggles. The two vintages generally available at the moment display the impact different conditions can make. The 2012 vintage was cold and difficult, and it shows in the wines, while 2013 is being lauded as one of the all-time greats. "Syrah in New Zealand is a much more transparent variety than people give it credit for," said panel chair John Belsham. "It shows influences of vintage, viticulture and winemaking very clearly, for better or worse."
In this context it was surprising that many of the 2013s didn't attract unanimous praise from the Cuisine judging panel. All agreed on the top scoring wines, and many others had enthusiastic support, but a question mark remained on a number of others. Firmly structured palates often followed generous, fragrant aromas, and perhaps the lesson drawn from the 2013 wines is that they need time. Many were unevolved and a little tough, but experience suggests that with some years in bottle they will blossom into some really special wines. There are also several top 2013 syrahs that are yet to be released.
Hawke's Bay's key role in the story of New Zealand syrah was apparent throughout the tasting. All the wines awarded four stars and above came from this high-quality North Island wine region, and a true regional personality has emerged. "A sense of 'New Zealandness' has evolved in the best of our syrahs," said John Belsham. "Today, New Zealand syrah doesn't need to be looked at with reference to others." Sam Kim agreed. "It has a sense or feel of place," he said. "Not a generic personality, but a family resemblance. This is the most significant part of building a wine identity internationally, and it underpins ideas of value and quality." Hawke's Bay's future with syrah looks assured.
Tasting Panel
John Belsham, an international wine judge and owner of Foxes Island in Marlborough, was joined in this Cuisine tasting by Australian wine authority Ralph Kyte-Powell and author of the wine-review publication Wine Orbit, Sam Kim.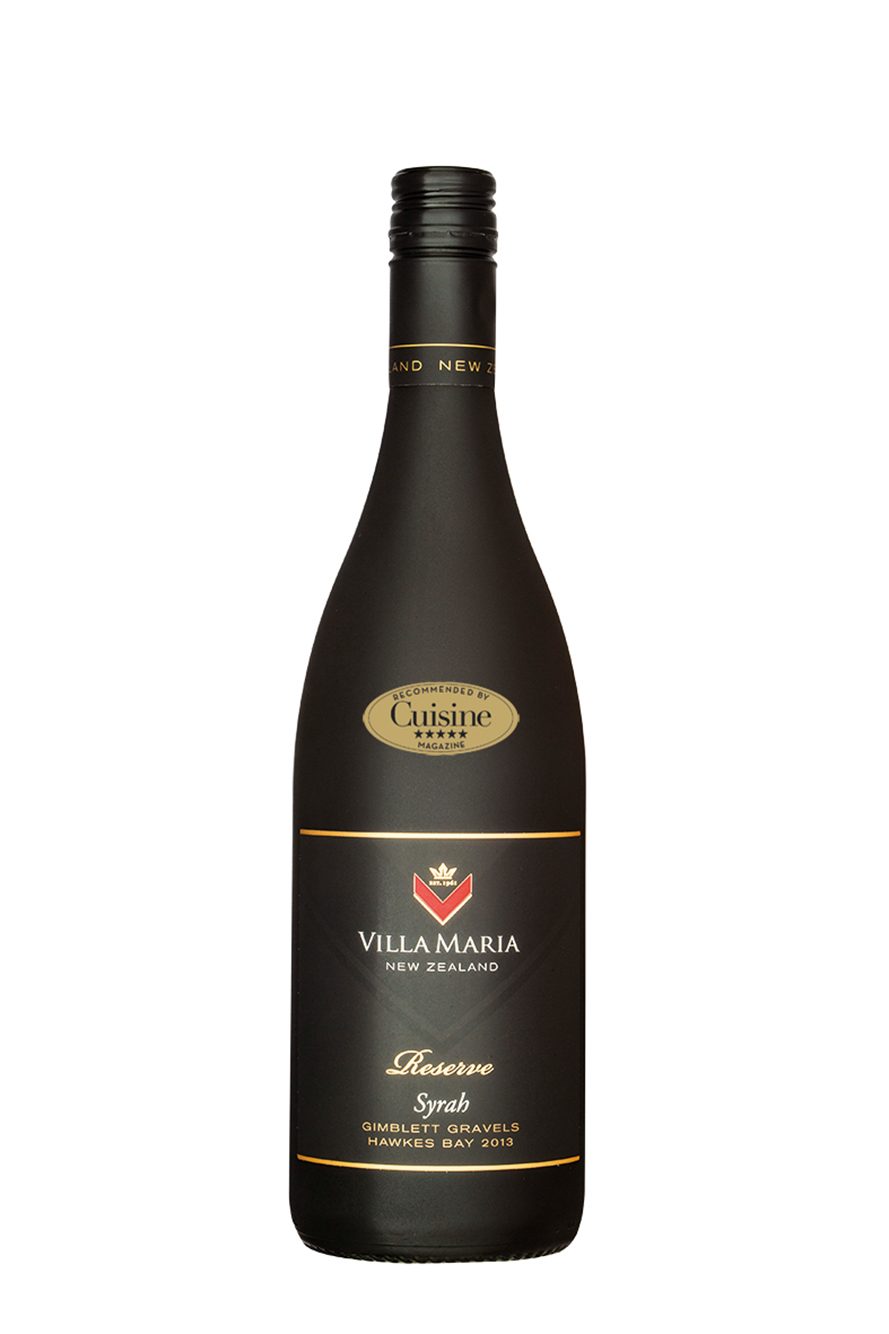 A superb Hawke's Bay/Gimblett Gravels syrah. What else would we expect from Villa Maria? It's a glass-staining wine, intense and freshly aromatic with purple fruits, florals and exotic spices. In the mouth it has admirable power. A plush core of dense, brooding syrah fruit has wonderful persistence, and smoothly integrated, fine, ripe tannins back things up harmoniously. An ideal partner to A roasted fillet of beef.
Top Wine Profile
Site dependent
Villa Maria's general manager of winemaking and viticulture, Alastair Maling MW, is a Hawke's Bay native with a special perspective on the region, and especially its syrah. "Syrah has come a long way in a very short time frame," he says. "New Zealand syrah producers learnt the lesson from earlier plantings of the Bordeaux varieties. That being, to understand the grape variety and plant it where it performs best, rather than seeing it as something that should be part of every portfolio regardless of the region."
That philosophy has resulted in Hawke's Bay syrah gaining almost instant recognition and acclaim both domestically and internationally. Maling's secrets of success start with moderate yields from the best vineyard sites, and continue with delicate handling in the winery to produce syrah wines of elegance and perfume.
"New Zealand syrah offers a lot of intrigue," he says. "Especially with some bottle age." The top wines in this Cuisine tasting are great right now, but put a few away and see how they grow with time.
→ more
1