It is exciting to see the quality of sparkling wine across a range of price points, styles and countries, says JOHN BELSHAM.
WINE IS ONE of the few things that slows down our modern-day life, if only for a moment. Great winemaking is a slow and patient pursuit. Great sparkling winemaking is even slower, as it can often take a decade or longer to build a respectable reserve stock program for blending non-vintage sparkling wines. However, often the difference between old winemaking countries and new is not about experience or capability or land or dedication; it is about finance and time. Most investors in new world ventures do not appreciate ageing wine inventory and tend to avoid them, whereas in countries like France much of a wine company's value is in its bottled reserves. With an understanding of the levels of dedication, investment and time required by sparkling wine producers, it is exciting to see the commitment to quality across a range of price points, styles and countries, old world and new. With so many beautiful sparklings to choose from, it certainly reminds us to slow down, capture the moment and enjoy.
TASTING PANEL For this sparkling wine tasting, John Belsham, an international wine judge and owner of Foxes Island Wines in Marlborough, was joined by Dr Tony Jordan, one of the most respected sparkling wine and Champagne judges in the world. Tony has been CEO of Domain Chandon Australia, Cape Mentelle and Cloudy Bay as well as a specialist consultant to Moet Hennessy internationally. The third panellist was Steve Voysey, a consultant winemaker with 25 years' of experience in making sparkling wines, who is now the proud owner of Spade Oak Wines in Gisborne.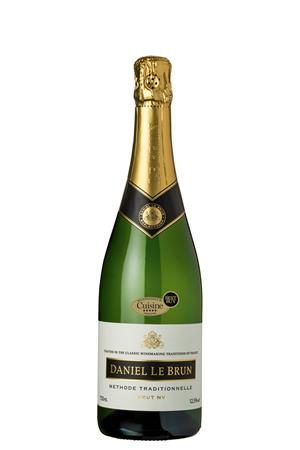 DANIEL LE BRUN NV is sourced from 13 different vineyards across the Wairau Valley with the varietal mix being 60% chardonnay and 40% pinot noir. To layer in depth, there is an impressive 27% of older reserve wine in the final blend. This is a fine, fresh style with lovely focussed fruit that makes for a terrific aperitif-style sparkling. Well-defined lines suit the elegant flavour profile of citrus, chalk and yeasty bread. This year's top sparkling comes from a house that first put down roots in Marlborough in the 1970s. Although the winery has since changed ownership, its unwavering commitment to quality and detail keeps this house at the top of its game.
For quality and value, there is a wonderful spectrum from prosecco to more complex, methode traditionelle, vintage wines. JOHN BELSHAM
THE SECRET ARTS The non-vintage house style is one of the most important wines in a sparkling house portfolio as it defines both the quality and the style of the producer. The Le Brun NV has the benefit of 21?2-3 years of ageing on lees, a length of time normally reserved for more prestigious vintage wines. The time on lees before riddling and disgorging is part of the secret art of the winemaker as he or she must determine how long is the optimum time to build texture and complexity, while maintaining freshness and structure in the wine.
→ more
1