Our cool-climate Bordeaux varieties show the diversity of wine styles possible in New Zealand, says Stephen Wong, MW.
The red grape varieties of Bordeaux have been in the Antipodes for a long time, first arriving in the early 19th century. Spurred by the prestige of the famous Bordeaux Cru Classé estates, New Zealand followed the example of other wine-hopeful countries by planting the cabernets and merlot to emulate Bordeaux. A skim through auction records show several New Zealand reds in the 60s and 70s were labelled 'Claret' (which is what the English called the style), or simply 'Dry Red': whether all of these were based on cabernet and merlot is uncertain, but some definitely were. Pinot noir's ascent in New Zealand was more recent, coinciding with viticultural expansion southwards into cooler climates (Martinborough, Marlborough, Canterbury and Central Otago). While export markets focus on pinot noir, most of our top examples from Bordeaux varieties are hoarded by local collectors. This contrasts with Australia, for whom pinot noir is also a relative newcomer, but whose cabernet sauvignons achieved widespread global recognition in the 90s, particularly those from Coonawarra and Margaret River.
Up until the mid 2000s, cabernet sauvignon was considered a marginal ripener in most of our wine regions, even in its heartland, Hawke's Bay – making certain vintages like 1991 and 1998 sought after. As a result, we saw a rise in merlot blends with malbec, which provided consistent colour and ripeness in most vintages. Beginning with 2009, however, the incidence of warmer vintages has increased and cabernet sauvignon is once again coming to the forefront. As some inevitable palate fatigue sets in from the abundance of hedonistic, perfumed pinot noir (and the much-talked about syrah), the reserved, firm and contemplative Bordeaux-inspired blends provide a counterpoint and reinforce the diversity of wine styles possible in New Zealand.
The judges' comments reflect a drinker's view of these varieties (rather than a collector's) with the top spot going to a crunchier and elegant cabernet franc, a style associated more with the currently fashionable Loire Valley. Throughout the tasting, suppleness, understated elegance, restraint and freshness were rewarded alongside the heavier, more traditional oak-driven wines. Whether it is to drink this year, or to hide away for half a decade (or more), New Zealand's distinctly cool-climate Bordeaux varieties will provide much enjoyment and a refreshing riposte to the warmer-climate examples from Australia and southern France (and arguably, with climate change, even Bordeaux itself).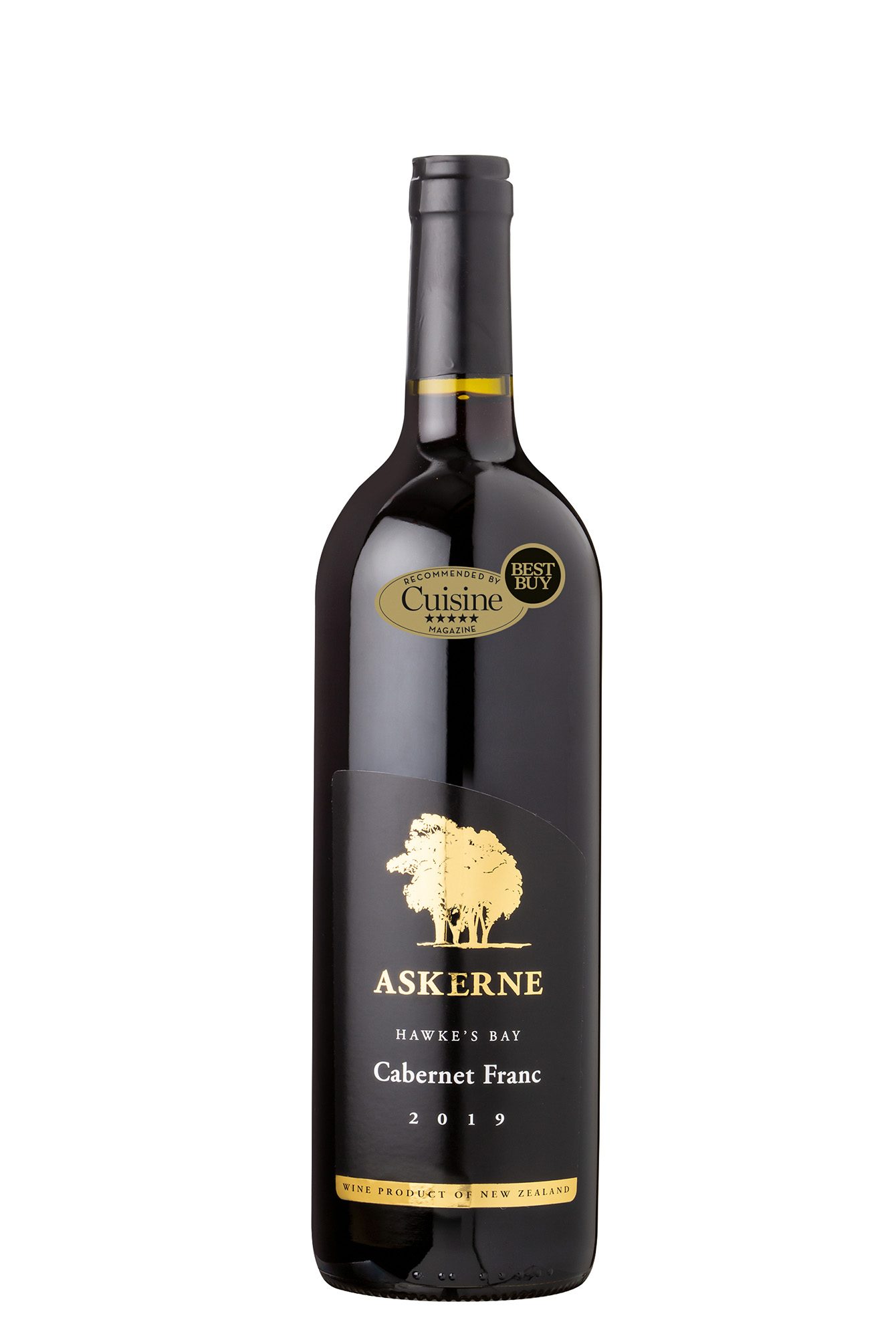 Kathryn and John Loughlin established Askerne in 1993, expanding in 2000 into the neighbouring orchard to take it to 20ha, and this newer plot is where the red wines are from. Cabernet franc is a particular love of Emma Wang, who works with the Loughlins in the winery, which might explain why such attention is lavished onto this less common grape here. Talented young winemaker Cairn Coghill recently joined Askerne from Sileni, so watch for even more exciting, elegant and complex wines in the near future.
This wine comes from grapes grown on the stony, sandy terrace of the vineyard, on the plains beside the Tukituki River. Cabernet franc is leafy, very fragrant and supple, with a lighter body than its progeny cabernet sauvignon (the other parent is sauvignon blanc). The judges' notes reflect classic notes of cedar, lifted fragrance and elegant, flowing palate with red fruit and spice through to the end of its crunchy, refreshing finish. It sees 22% new oak, which is more Saint-Émilion than Loire-like in interpretation, but the site delivers a distinctly cooler-climate style, so the result is halfway between the two.
→ more
1